Forum rules
This section is only about tasks on DDNet.
Off-topic is strictly prohibited.
Be as much detailed as needed to make understandable what you want/are able to do.
Posts: 33
Joined: Mon Dec 28, 2015 6:48 pm
Location: Chile
Player profile: Would?
Clan: Respect #
+1. Really nice to see you here Delirio!, I think it's all said, a respectable player and old enough to know the other players and the community in general. Actually, Chilean servers needs more moderators...
---
---
---
Posts: 149
Joined: Sun Dec 20, 2015 7:44 pm
Player profile: sorgaxD
Mapper profile: sorgaxD
Clan: Rank S
+1 He is a good person and it sounds good to have another moderator in Chile (because current moderators almost never play). I talked to him and he is willing to go to other servers where they need him, and I hope so because otherwise I do not see it useful to have a mod that only plays maps on servers where nothing happens.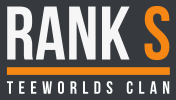 ---
Posts: 4
Joined: Sun Aug 07, 2016 6:05 pm
Player profile: Zith
Clan: Cojoh TS
+1 nice guy
---
+1
I think he would be responsible
---
Posts: 13
Joined: Thu Mar 17, 2016 1:35 am
Location: CHILE
Player profile: kiso
Clan: Popeyes
+1 GOOD PLAYER AND FRIEND.
---
Posts: 1
Joined: Sat Jul 09, 2016 7:28 am
Location: Uruguay
Player profile: ☯Mڶɴ3☯
Clan: 123wena
Website: http://clan-123wena.webnode.cl/
+1, wena delirio, very respectful and serious player. I think he can help a lot as a mod in the Chilean Servers. In addition, he connects very often to the game, which benefits a lot when we refer to a good moderator.
---
Posts: 19
Joined: Fri Mar 11, 2016 10:25 pm
Player profile: Forzed
Clan: NiceTry
Website: http://pichula56.webnode.es
+1
Manfinfla y Maldita Peke lo aprueban<3
NiceTry Family>DSKrú
bb
---
Posts: 18
Joined: Tue Jul 12, 2016 10:23 am
Player profile: Akko
Clan: Daisuki✈
Website: https://osu.ppy.sh/users/16435812
---
Users browsing this forum: No registered users and 0 guests