Moderator: jao
had a few minutes, so i thought i give already some screens.
just a suggestion. add a hookblocker and let the tees hook from the right. wall jumpst are not needed, dunno whhat the idea is but maybe you should concider to change it.
---
Hi, thanks fot testing, well, this is how both parts work, alternatives ways are welcome
I could update considering first secreenshot if someone else post a bug, otherwise, I think it's ready.
---
Posts: 149
Joined: Sun Dec 20, 2015 7:44 pm
Player profile: sorgaxD
Mapper profile: sorgaxD
Clan: Rank S
wena arcturus tanto tiempo, asi que aun vives y nos ignoras :'v
sigues con tus mismos diseños xD, con elnuvato nos pusimos a testear el mapa tratando de comunicarnos contigo xD. Elnuvato hizo un mapa y quedo weno, esta aca en el foro y te acuerdas del crystal maze? aun no esta terminado :V pero lo estara pronto.
bueno aca el "bug" xD
you can enter your dummy and yourself into the same hole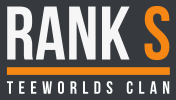 ---
---
I like the map... - parts & gameplay are good, map is thoughful, playable and has a good lenght in my eyes.
The design is okay in my eyes, could be better. Maybe a other design would fit better because I see here the design of your previous map "Warto".

I didn't found more bugs than Oblique found, so fix this and then it should be ready in my eyes.

Dummy 3* should fit this map perfectly.
---
Thanks for testing
sorgaxD: Wena, he estado ocupado, ojalá salgan sus mapas, si tengo tiempo los testearé
Oblique.: 1: done
2: this text is necessary, if you don't wait it's fail becuase the bullet hit you before unfreeze (tested many times).
3: I thought it was obvious.... added
4: done
5: Impossible? hammer your dummy positioned like in your screenshot or the part on the left with tunes?. Anyway all parts there works.
Awesome: I like that design
Attachments

(752.13 KiB) Downloaded 42 times
---
Oh my bad about #5 I didn't notice that there was a tune zone (I thought you were supposed to hammer the dummy who would rocket-boost off of you). Sorry
A is for Apple.
---

10: Tele-18 repeat mechanism is unnecessary IMO, the part is pretty easy already.
11: IMO "repeat" isn't the most appropriate description for the switches, maybe something like "rescue" would fit better.
12: Not that important but you should only use as many TO/CTO-teles as needed. (2 if both tees can be ported; 1 if only 1 can be ported - you may also place it directly on the ground then.)
9: The last part is too faily IMO. You shouldn't fail a Dummy map because of such a solo part.
---
Users browsing this forum: No registered users and 0 guests