---
---
---
---
Cool tiles!
A is for Apple.
---
---
Posts: 149
Joined: Sun Dec 20, 2015 7:44 pm
Player profile: sorgaxD
Mapper profile: sorgaxD
Clan: Rank S
I reworked them:
The left one is old and right one is new.
The new corners fill more space, so it fit better with freeze tiles.
Rules are the same, just rename it to the new mapre name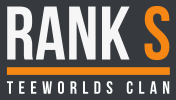 ---
Posts: 374
Joined: Sat Feb 04, 2017 5:04 am
Player profile: Ravie
Mapper profile: Ravie
Clan: TOP
You're supposed to make freeze overlap behind tiles, no matter how little rounded the corners are, so this doesn't make a difference in mapping, but I think the more rounded ones look better.
---
Users browsing this forum: No registered users and 1 guest